When something happens to your beloved home, you probably spring to action, trying to repair the problem yourself. Although a natural reaction for a homeowner to take, not all damage should be a do-it-yourselfer fix, such as a roof replacement. How do you know when to fix it yourself and when and why to call an expert roofer? Read on to find out.
Small Roofing Issues You Can Address
Let's get the easy stuff addressed first. A few things, a homeowner can do themselves to address roofing issues, but not roof installation These consist of patching damage temporarily until the professional help arrives, so don't get too excited. You should always call an expert roofer to repair leak damage to your home's roof because they have the expertise, tools, equipment, proper materials, and training to do the job right.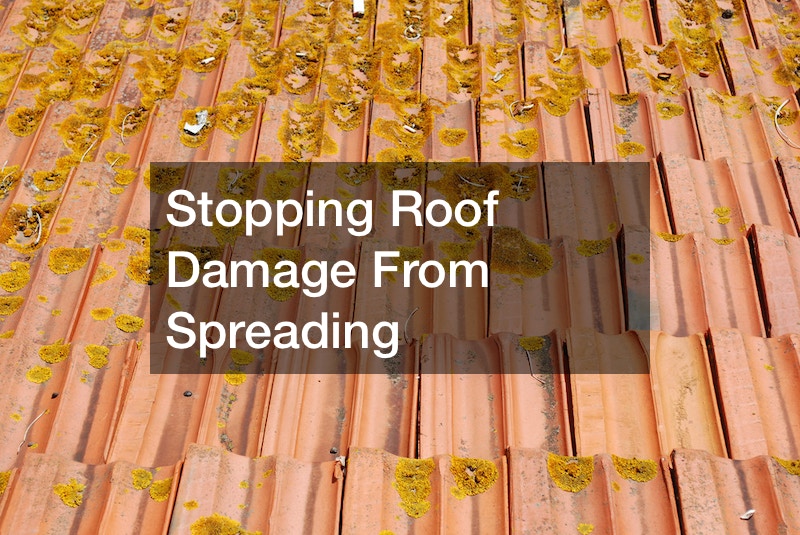 Stopping Roof Damage From Spreading
The most obvious roof damage springs from leaks and missing roof shingles, and you should always make an emergency patch to a leak before phoning a professional roof repair person. You will notice a leak by the dripping of water on your head or the small puddle on your floor. Sometimes, you might catch the leak before it breaks through the ceiling drywall because you see the moisture stains on the outside of the drywall.
At any of these points, repairing the damage has gone beyond the skills of the typical homeowner. You can, however, make an emergency patch that stymies the damage from spreading. Before you start work, check the following items:
Conduct a safety hazards check. Cut the power at the main break if the leak occurs near wiring conduits. Leaks near the fuse box create a huge home hazard. Mop any dripping water up and dry the floor.
In cases of severe damage, if the roof seems like it could collapse, evacuate the building.
Place a bucket or bin beneath each leak to catch dripping water.
Turn on a dehumidifier if you own one. Running this device helps prevent the growth of mildew and mold.
Move any furniture near the leak to prevent it from damage.
Locate the source of the leak by checking your attic or upper crawlspace for leaks, water stains, wet areas, condensation, or discolored areas. Hot spot areas include areas around chimneys, skylights, roof valleys, joints, and corners. Also, visually conduct an exterior roof inspection from the ground only.
Now, if you can safely do so during current weather conditions, mount a ladder and place a waterproof tarp over the exterior damaged roof portion. Use small weighted items, such as a brick to hold the tarp in place or tie it down to the roof attaching it to any hook and eyes hanging from the eaves to hold planters. Do not try to nail anything into the roof because this could cause further damage.
On the inside of your home, add either a second tarp over the leak area or nail lumber over it as a very temporary solution. Use caulk or rubber sealant to seal the board's edges and stop water from leaking past the board's edges. Never try to mount a damaged roof yourself. Leave that step to the professionals.
Why Hire a Roofing Professional
From their training to specializations, roofers acquire and put to use the knowledge needed to repair and install roofs. They purchase specialized equipment and have access to materials that a homeowner can't purchase. Their teams consist of more than roofers, since these construction professionals frequently work with others in construction, including electricians, which your repair project may need. Using a roofing pro protects your warranty and, if your leak or other roof damage results in a new roof going on your home, using an expert roofer nabs you the full warranty plus an installation warranty, so hire a new roof install service.
Roofing Professionals Undergo Extensive Training
A roof service professional undergoes extensive training before going to work in their profession. This includes a technical training program, typically offered through a vocational school or technical college. Each roofing company usually specializes in at least one manufacturer's roofing materials, completing specialized training for that manufacturer that earns them certification in its installation methods. Hiring an expert roofer such as this can net you an added warranty for installation, something both TAMKO and GAF provide.
Trained in Safety Measures and Properly Equipped
A pro roofer at a local roofing company undergoes safety training, too. Roof work includes danger, especially on roofs with steep pitches. If you fear heights, leave the roof repairs to a pro because they can handle the sometimes dizzying levels of a home's roof.
Most people think of roofing equipment as consisting of nails, hammers, and shingles, but a roofing pro also wears safety gear and uses many more tools. Rather than purchase all of the personal protective equipment (PPE) owned by a roofer, hire an expert roofer. Leave the roofing repairs to a professional who can safely mount to the roof and make repairs succinctly.
Roofers Own the Needed Tools and Equipment
Besides safety equipment, roofers own the extensive array of professional-grade power tools needed to make full repairs. These include power and hand saws, hammers, power drills and screwdrivers, and nail guns. This array of tools addresses each of the seven layers of a typical residential roof, so you need far more than what most people see when they spot a roofer adhering shingles to a sub-roof.
Pro Roofers Come Equipped to Handle Bigger Problems
Some seemingly small leaks point to much larger issues, like chimney issues or gas vent problems. When this happens and an expert roofer discovers wider-ranging damage than first known, they can address it on the fly with the homeowner's okay. That's a big thing that even the most experienced DIY-er can't (and shouldn't try to) do.
Problems with a leak around the chimney can come from disintegrating chimney bricks, improperly installed flashing, worn or torn flashing, or other issues. Use pro roofing businesses to repair such problems, not just to stop leaks, but to ensure safety during seasons when you use your fireplace.
A home's roof doesn't simply consist of shingles or roof sheets and a chimney. It also contains roof vents that expel dangerous gases and prevent others from entering your home. Any problems or damages to gas vents should be handled by an expert roofer to prevent dangerous gases, such as carbon monoxide, from entering your home.
Most Materials Require Professional Installation
A small patch or a single shingle that needs reattaching, you can do yourself, according to Architectural Digest. However, anything more than that requires an expert roofer. While you could easily purchase a few architectural shingles to repair an asphalt roof, some roofing materials manufacturers will only sell to their certified installers or vendors. Using anything except the same materials could void your existing warranty. Trying to make large-scale repairs yourself could also void your roof's warranty.
Other materials you can't come by so easily. For instance, typically only professional roofers can access the galvanized steel for standing seam metal roofing installations and clay tiles for that hacienda look. These materials, even if you could access them, don't lend themselves to a DIY-er wanting to put in a large-scale roof patch.
Re-Roofing Requires a Professional Installer to Activate the Warranty
Whenever your home needs partial or total re-roofing, you need to hire professional roofing contractors in order to activate the warranty on the roofing materials. Read the warranty information carefully before you purchase your materials because most manufacturers stipulate that an expert roofer must install them in order for the warranty to apply. You also won't avail yourself of the installation warranty without a manufacturer-certified roofing professional. In the cases of GAF and TAMKO, the installation warranty only applies to their master installers.
With these warranties in place, the manufacturer covers the costs of faulty materials and improperly installed roofing materials. For example, if your leak stemmed from improper installation of flashing around the chimney, the roofing manufacturer would cover the repair costs under the warranty so long as you had used one of its certified installers. Otherwise, you would need to pay out of pocket for your roof repairs.
When to Have a New Roof Installed
You might wonder if a roofer tells you the truth about your home needing a new roof. Five signs indicate that you need a new roof immediately.
Bald, cracked, or curled shingles dot your roof.
The roof sags or shows other serious structural damage.
Algae or moss grows on the roof.
The home features an asphalt shingle roof aged 15 to 20 years.
You plan to sell your home.
If you note any of the four damage signs, you need roofing repairs immediately.
Choosing Your Professional Roofer
How you handle your home's damaged roof comes down to four factors:
Repair complexity
Your expertise level
Your free time available
Your financial situation/budget.
Don't let budget constraints stop you from obtaining professional roof repairs. Contact your local community action agency for help locating grant money, charitable donations, or a local roofer who offers payment plans.
Use your favorite search engine to search for your county name and state, plus community action agency. For instance, "Pittsburg County OK Community Action Agency" brings up both the Ki Bois and Merced organizations and the Regional Council of Governments (COG). These agencies may provide direct assistance from flow-through federal programs or they may offer referrals to programs, such as Rebuilding America, formerly known as Christmas in April.
After obtaining your funding or rearranging your budget to cover your roof repairs, you'll need to find a reliable, dependable licensed expert roofer. Start by asking family and friends who they used to roof their own homes. If no one has had such work done recently, search online, starting with websites like Angi and Thumbtack.
Check the references of each expert roofer. Phone provided references and asked how the work held up, and what working with the roofer was like. Read online reviews, too, because roofers won't mention the bad experiences people had with them.
Obtain quotes from at least three roofers if possible. Some rural areas probably won't offer as many professionals as cities, but you should be able to locate at least one licensed professional roofer. Compare the quotes and hire your roofer.
Preventing Future Roof Damage
Once you've obtained repairs for your roof, prevent future roof leaks by doing a bit of home maintenance. DIY-ers, here's where you get to have some fun! Most of your regular roof maintenance, you can do yourself.
Clean the roofing gutters each month. Avoid allowing leaves and twigs to build up in them. These devices whisk water off of your roof and divert it away from your home. If your home's gutters incurred damage or your home lacks them, have new gutters installed.
Inspect your roof from the ground each month and after each storm. Walk around the home's perimeter and look for damage indicators, such as missing shingles, gutter clogs, and wear and tear on the roof.
Have a heating, ventilation, and air conditioning (HVAC) professional examine your attic's ventilation. Proper ventilation ensures adequate airflow, which prevents moisture buildup. Inadequate ventilation can cause deterioration of roofing materials.
Maintain the area around your roof vigilantly, and, yes, we mean your trees. Trim back branches that overhang the roof. This keeps them from dripping water on your shingles when it rains.
Using a roof rake, remove debris and snow from your roof. For larger amounts of either, hire a roofing contractor to clean off the roof. Most roofs are not designed to bear extra weight.
Besides your monthly roof inspections, once per year have a roofing professional conduct a roof inspection. These inspections examine every aspect of the roof up close. The roofer mounts the roof to examine shingles, flashing, and other parts of the roof. They also inspect the roof from the attic side.
Hire a Pro Roofer for Best Results
Roof patches typically cost less than $1,000 when done by a pro roofer. An entire new asphalt shingle roof typically costs about $1 per square foot. Don't let costs hold you back since using a professional activates both roof warranties and results in more comprehensive repairs.